Medicare – Annual Enrollment 2023 is here!
When is annual enrollment?
Each year annual enrollment is October 15 to December 7. Call your broker early in the AEP season. There are 60 million Medicare enrollees. Don't wait until December!
Can I prepare ahead of October 15?
Yes, for those who are already on a Medicare plan, each year in September, you receive an
Annual
Notice of Coverage
booklet. The ANOC compares the current year with next year's coverage. This chart starts with the monthly premium and annual deductible. Then goes down each line item showing the benefit and the cost. This allows you to compare what your costs are for this year and next year. For Medicare Advantage
(also known as Part C)
plan enrollees, confirm your doctors and medications have not changed, and if your pharmacy is still a preferred pharmacy (in the network), this gives you a bird's eye view of what costs to expect next year. For Part D plans, if your meds have not changed and the pharmacy is still preferred, you can confirm next year's cost.
What changes can I make during Medicare Annual enrollment? Advantage (Part C) and Part D plans
can be analyzed and compared with your current plan benefits and costs with next year's plan options. If you are on an Advantage plan, you can change to another Advantage plan or enroll in a Part D plan. If you are on a Part D plan, you can change to another Part D plan or switch to an Advantage plan that has the drug plan built in. Remember, you can change to a Medicare Supplement plan any month of the year if you pass medical underwriting after your initial enrollment or grace period.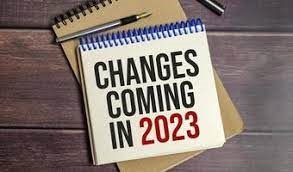 What are some changes for 2023?
CMS (Center for Medicaid and Medicare Services) has made two major changes for this annual enrollment period. These changes are in direct response to the increase of complaints. Most were generated from the Medicare TV ads. Last year, CMS received over 39,000 complaints, almost doubling the number in 2020.
One change
effective October 1, 2022, and subsequent years, requires all agents, brokers, and third-party marketing organizations, including the ones seen on TV commercials is to record all calls with clients, including the enrollment, in their entirety and the recording must be kept for 10 years! This would include the third-party companies marketing the TV commercials. This has raised the ire of many reputable agents. It is as though reputable agents and those Medicare eligible are being punished for TV money hungry marketing organizations.
The second change
is third parties, agencies and agents must have this disclosure statement on all marketing materials.
"We do not offer every plan available in your area. Any information we provide is limited to those plans we do offer in your area. Please contact Medicare.gov or 1-800-MEDICARE to get information on all your options."
This will create more confusion as if Medicare is not confusing enough. There are some companies that employ captive agents. That means you can only enroll by calling that company's 800 number. These companies cannot compare every plan on the market available to you, only the plans they offer. Also, there are companies that are new to offering Medicare plans or are just now offering in a new area. As an agent, I feel it is important to enroll my clients in stable established carriers, not the new kid on the block. Both these changes will create a massive influx of calls to Medicare and if you think your call hold times are long now, just wait… For 2023, the Part A deductible is increasing from $1,556 to $1,600. The good news is, after the monumental increase last year, the Part B monthly premium and annual deductible have been reduced. The Part B monthly premium is reducing from $170.10 to $164.90 for 2023. The Part B deductible is now $233 and will be reduced to $226. And with COLA being increased, that will be a really big win for 2023.
Bonnie Dobbs is a writer and speaker for the Atlanta Journal Constitution. Please see her next article in the AJC – Aging in Atlanta section in the October 2, 2022 issue. If you need help, please see her website www.bonniedobbs.com or call the Bonnie Dobbs Agency at 770-373-7541.
If you or an aging loved one is considering Senior Home Care Services in Roswell GA please contact the caring staff at CaraVita Home Care today. (770) 643-1712