DementiaLife Program
Our Innovative Dementia Care
We've created a new approach to memory care that begins with shaping a caregiver's mindset when it comes to caring for those living with Alzheimer's and dementia. We train all of our dementia-specialized caregivers to become their client's best friend, authentically.
To someone living with dementia, a best friend will be a coach, a confidant, and a pal who provides reassurance, along with personal care services. During their time together, our caregiver will learn their client's life story, individual personality, and incorporate all of the little things that make your loved one so special and unique.
While Alzheimer's and dementia can be painful for everyone it impacts, we hope to truly capture the spirit of a best friend in our care. Together with proper memory care, we can fill the lives of you and your loved one with as much peace and joy as possible.
Dementia Care Journey
Dementia Care is a passion of Beth. She teams up with family members and highly trained professionals to understand your loved one.
SIGN UP FOR A VIRTUAL
DEMENTIA TOUR
Contact us to learn more about our program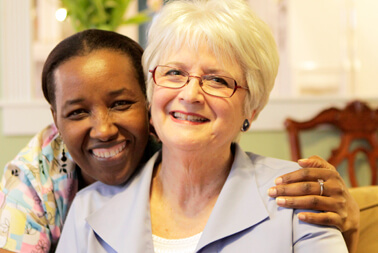 Discover the Life Story
Each person is unique. We partner with families to discover their loved ones Life Story and meaningful pastimes. We collect memories, photos, and gather activities that our caregivers can use to engage with your loved one in meaningful ways. Paired with a clinical assessment and an understanding of difficult behaviors, we develop an individualized care plan that helps to manage behaviors and create joyful moments.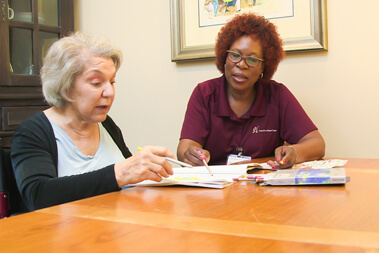 Develop a Functional Schedule
The best way to begin incorporating a Life Story into your loved one's daily rhythm is to put together a functional schedule. Schedules and routines often help provide reassurance and a sense of peace to those living with dementia. It does not mean that every day has to be the same, but it does mean that each day you have a rhythm that the individual living with dementia can settle into and feel comfort and control. For families who request assistance, we can work together to create an outline that works best for you and your loved one. To learn more about the functional schedule, download our Life Story Ebook.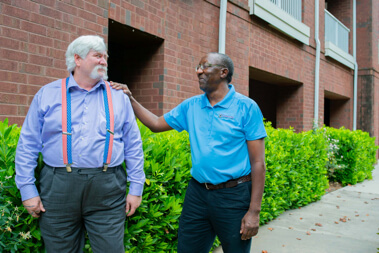 One-on-One Caregiver Training
Using your loved one's life story, we create a functional schedule to help them engage with the day. We individually train your caregivers to become your loved one's best friend, teaching them the correct approach for each individual, coaching them on how to manage specific behaviors, and showing them how to recognize and encourage independence and engagement.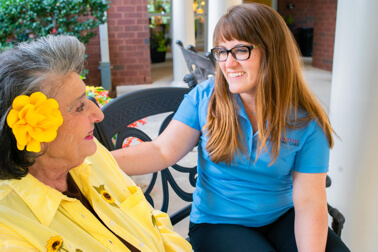 Ongoing Oversight and Partnership
As your loved one moves through the stages of dementia, we will continue to adapt and adjust your care plan and caregiver training to best meet the physical, emotional, and relational needs of your loved one. We offer the latest education and technology for families to engage with their loved ones and partner with you to make the most of each and every day.