The inner satisfaction a caregiver receives when their client improves can never be quantified in any form. Especially, in these COVID times, it is so important to celebrate the wins. This is the case for Catherine Kahoro, Blessing Idamkue, Racheal Nyingi and Anne Githutu. It is no secret that good care provides healing. CaraVita is so blessed and privileged to have these awesome caregivers as part of its team. Lately a lot of clients have recovered due to the wonderful care that is being provided by our team. The Clients even want to make sure it is known by sending us gracious notes. Here is just a snippet of background and story.
Catherine Kahoro
Catherine Kahoro has worked with Cara Vita since 2003. These number of years shows commitment and dedication which all of her clients have attested. Catherine is originally from Kenya, but has lived in the United States for more than 25 years. Catherine is a certified speaker, trainer and a couch. She attended the Fashion College International and obtained a degree in Cosmetology. She is married with three children. Catherine stated Cara Vita allowed her the flexibility of hours to work and also raise her children. She credits the success of her children to CaraVita giving her the opportunity to work and be at home when she was needed. Catherine was part of a team that provided care for Mr. DM when he came home from the hospital. Mr. DM needed 24hour/ 7days a week care. Today, he is doing so well that his hours of care have been reduced to 8 hours a day, and a couple of nights. She loves providing care for Mr. DM and spending time with him. "He is so intelligent; he answers all my hard questions. His gratitude culture, positive attitude, and his nice family all make the time spent with him very meaningful".
Blessing Idamku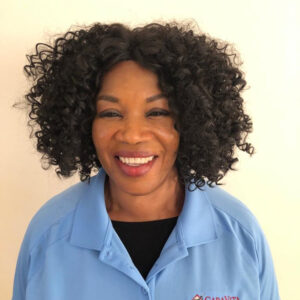 Blessing Idamku has worked with CaraVita for eleven years. She believes her families that she has cared for over the years have been a blessing to her. Blessing relocated from Nigeria to the United States 22 years ago. The first 10 years of her stay here, she managed a small family-owned grocery store. Blessing stated her faith in God is what allows her to provide care for seniors. Blessing is married with two children. In 11 years, Blessing has called out of work only three times. She understands that her client needs her so despite what she has going on, she makes it a point to be there for them. She loves to watch Mr. DM pray for his late wife each night. Blessing stated she would quietly say to herself "This wife was blessed to have been married to this wonderful man". She was full of praises for Mr. DM's family. She stated that their kind, and loving environment allow her to work in a loving home.
We all know Mr. DM is a wonderful man. He is humble, kind, positive, confident, and highly intelligent. He said his Cara Vita caregivers are angels on earth. He recanted his condition when he came back from the hospital. He said he was in such bad shape he does not remember much of it.
Now thanks to Catherine and Blessing, he is able to go for walks, hold conversations and provide some basic activities of daily living for himself. He said, "I cannot move furniture though". He told a story of when Catherine drove all the way to go get his oxygen tank. He said, "I know they get paid for the work they do, but the things they do, is beyond money".
Mr. DM is originally from Long Island. He spent his early career in New Hampshire. He is a man that travelled the world, and led his country in some groundbreaking research when it came to science. He wishes he could go back to Long Island but he hates to fly and would not like to do it now with all the changes happening. He moved to Atlanta with his lovely wife and his three daughters to work with Coca- Cola. He loves the Atlanta Braves and wish they could win some more championships. He looks forward to his caregivers coming because they are family now. He likes to hear about their stories and families.
If you or an aging loved-one is considering Elder Care Services in Roswell GA please contact the caring staff at CaraVita Home Care today. (770) 643-1712