The Certified Nursing Assistant (CNA) job is never easy. It is no coincidence that a shortage of caregivers is more common than ever.
CNAs are so significant that supervisors and Charge nurses rely on them to identify changes of condition in their residents. Some believe that CNAs just sit and watch residents. Others say that all the caregiver does is clean residents' and dress them up. If that is true, CNA's would not leave work with tears in their eyes knowing that their residents would breathe their last breath.
CNAs hold residents' hands when they are scared. The heroes among us continue to work through the new COVID pandemic culture which continue to affect us all. As we make plans to open our communities to reach some level of pre-COVID normalcy, it is important to note that the CNA specialist never took a break. They watched their much-loved residents passed on. They got COVID sick while caring for others. Some of them feared the possibility of incurring long lasting COVID-influenced health issues. CNA professionals waited to speak to their parents who were thousands of miles away from them, hoping for the assurance that they were okay.
CNAs are generally disappointed about their perceived affect as professionals by their colleagues, residents' families, and others. They feel unvalidated on a constant basis. They love their job but feel the need to walk away on many occasions. Sometimes, they feel they would rather be somewhere else, far from the depredations of their occupation. It is no secret that many CNA professionals have non-English accents and are bilingual. Look beyond the accent, and you find a very kind, talented person.
It takes a lot of courage to be a caregiver; a person may never know about the bumps on the road of a caregiver until they walk in their shoes.
JUDITH IMOITE
I come from a middle-class family in Kenya. Both my parents were schoolteachers. I never felt that I was better off than other people who were less fortunate than I was. That value came from my parents who showed me what loving others should be and feel like. Part of that value was my Christian upbringing, which has shaped me till this day.
I have worked for Cara Vita Home Care since 2017. The caregiving opportunity allowed me to buy a home in Georgia and build a retirement home in Kenya. With the flexibility of work at Cara Vita Home Care, I now dedicate enough time to do a lot of personal things. I serve as a Bishop at a church, take on articles as a freelance writer with Text Broker.
I know one may say I am not a typical caregiver in this business. That is why it is important to see us as individuals and what we bring as professionals. I am married to a Bishop. We have 3 sons and a daughter. I received my bachelor's and master's degrees in Kenya. I earned a PhD in Education from Howard University in Washington, DC. I taught High School English Literature and did not get the fulfillment that I was looking for. More importantly, the students were equally not motivated, and I did not feel I was making a real impact.
I moved from Washington, DC to Georgia several years ago. My family and I relocated because of how hard it was for us to find meaningful work. I met a few Kenyans who worked with Cara Vita Home Care at the times and inquired about the possibility of working with them. The hiring process happened so fast when I applied at Cara Vita. At that time, I had applied to so many teaching jobs with no luck. I believe caregiving for me is an opportunity God has given me to do His work. I look at COVID pandemic from a different lens. I understood COVID to be fatal and committed myself to not catch the virus. Although COVID was scary, I did not consider staying home and not working as a caregiver. Too many people would have died a shameful death if we all stayed home at first. I doubled up on improving my health immunity by drinking ginger, garlic and inhaling hot water. I take my vitamins and minerals every day and exercise 4 hours each week at a local fitness gymnasium. I joined a group of Christian believers at 5:30am each day to pray.
Caregiving may not pay a lot of money to most people. however, I receive so much gratification and fulfillment that no amount of money can match. I worked eighty-four hours each week, giving care to the people who need it the most. My experiences sometimes help me to assist clients beyond caregiving. I thank God for emerging triumphant, rarely catch a common cold.
SHARNAE SMITH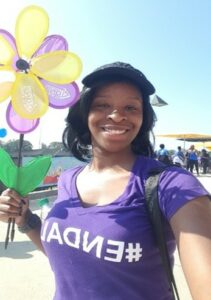 Caregiving is what I do. I have been a caregiver for 6 years. I was born in Palm Beach, Florida and the oldest of 3 children. As a young girl growing up, I cared for my mother and grandmother who were both in physical conditions that required my assistance. I was excited to be among the first caregivers to take the COVID vaccine shot. That piece of mind is priceless.
I am comfortable working with different people from many backgrounds within the community. I cherish the opportunity of diversity as I get to know more about myself. I also believe in the power of serving for the greater good of mankind. I knew I did the right thing as so many diseases have been eradicated due to vaccination. Humor is one way to be less stressful. I have a natural goofy personality. It comes in handy when I provide care to my clients. The people I serve like the fun side of me. Because of that, I make it a priority to have a silly attitude when I provide care. I remember serving a client who suffered from Amyotrophic Lateral Sclerosis (ALS). He struggled to accept his situation, so I made each visit to him very fun. He enjoyed my goofiness. I learned from him how to be sincere even in pain. It is important to be sincere and honest in my line of work. Without it, there is no trust, which makes it difficult to provide care.
I will continue my caregiving profession in nursing with the hope to buy a home in the future. As a full-time nursing student and permanent employee at Cara Vita Home Care, my life is a busy one. On days that I do not work or go to school, I catch up on reading books, sleep often and roller-skate with loved ones when I find the time. Caregiving allows me the opportunity to pay for school. I find comfort in knowing that my presence at work make people feel good. Nothing can be better than that.
KEZIAH CHEGE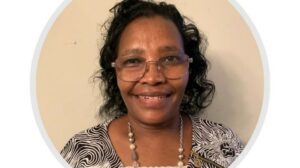 I have been a caregiver for 11 years. I enjoy working with clients with clinical complexity. I get so much fulfillment making clients feel better than when I met them.
I believe I was born a caregiver. I can't recall a time and a moment where I found myself not caring for someone. Caregiving is a calling, and it comes very easy for me. I never called off work because I knew my clients' family depended on me. I make it a point to be there for them. When my clients need personal items of the sort, I use my own money to get them sometimes.
In my previous professional life, I owned a boutique business selling clothes. Most of my customers were not from rich homes. I worked with Assumption Sisters of Nairobi where we cared for orphans. I was a kindergarten teacher. I was also a member of the Nairobi Women Guild, an organization that cared for seniors with no families.
I am married with two daughters and a son. One of my daughters also works for Cara Vita Home Care. The other is a nurse. As a diabetic and asthmatic person, COVID pandemic was very scary for me. I worked 60 to 72 hours each week with a client in a community that lost about 10 people to COVID. I spent a lot of money buying disinfectants, masks, sanitizers just to stay safe. But most importantly, I believe God protected me. My faith sustains me. I believe God and His ability to guide and protect me and my family. I am thankful I am fully vaccinated, and I can continue to do the work I enjoy safely.
If you or an aging loved-one is considering Caregiver Services in Roswell GA please contact the caring staff at CaraVita Home Care today. (770) 643-1712