When we engage and socialize with others, whether in a small or large group, our overall health and happiness as well as our ability to handle stress is positively affected. On the other side of that, when we become socially isolated then we can see negative effects to our sleep and may be at greater risk of alcohol or drug abuse as well as experience periods of loneliness. Aging can present with some typical physical and cognitive changes that may create challenges making opportunities to socialize fewer and more difficult to navigate. Additionally, as we get older, our friends and loved ones may no longer be around. As we all have seen, the COVID-19 pandemic only made things worse. While there is no one solution to combat loneliness, there are many different options available to suit various lifestyles.
AARP
has a wonderful article listing 13 free or low-cost ways to meet new people or connect with friends.
Here are a few from that list that we particularly liked.
1. Organize a reunion. 2. Take a trip (local or distance). Here is a wonderful from
365 Atlanta Traveler
about drivable getaways in Georgia and one from
Attractions of America
with a list of places in South Carolina. 3. Volunteer. Check out
Volunteer Match
for opportunities in your area 4. Walk your dog or, if you are capable, spend time and help out with someone else's pet. 5. Visit a house of worship. 6. Seek intergenerational connections. Here is another great article from AARP regarding intergenerational connections. 7. Reach out to neighbors and others in your community to meet someone new. 8. Host a small get together. Be mindful of how COVID is affecting your area.
CDC COVID-19 County Check
will allow you to check the status of your county and is updated weekly.
I highly encourage you to check out the article to see the full list and details!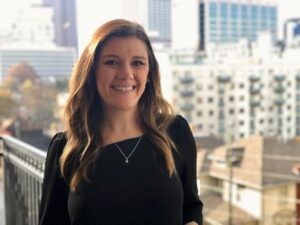 Jesica Alperin
is a Certified Occupational Therapy Assistant, Certified Dementia Care Specialist, Certified Fall Prevention Specialist, and Advanced Ergonomics Assessment Specialist who has spent the last ten years working with the aging population. Jesica has used her expertise in a variety of clinical settings including subacute rehabilitation, long-term care, and dementia care. Currently, Jesica works full time at CaraVita Home Care as the Director of Staff Education and the Dementia Life program.
If you or an aging loved one is considering Assistance in the Home Services in Roswell GA please contact the caring staff at CaraVita Home Care today. (770) 643-1712